SHUTTLE GUARD(SERIES)
Thin! Light! Simple maintenance! We are proud of light weight•high-follow up capability of Telescopic cover for chips protector.
---

SHUTTLE GUARD
This cover can protect the machine from chips and cutting oil when various machining tools drive. It's very important standardization on character use machine's power that how weight is light or how having high durability.

Features
•Thin = Special SUS, Iron wiper
•Light = 30% reduction
•Quick = Following to quick motion
•Durable structural design= W style Pantograph
Z axis cover (mountainous style)
Quick motion and high durability
Flexible design for various needs

Now, we present new performance of telescopic cover's last possibility about weight saving, smooth motion, high durability maintenance etc. by new design and construction method
Stable motion design
[W Style Pantograph]
Each cover is keeping parallel synchronized motion and planning stabilization by installment the two hardness pantograph.
[Direct Roller Holder & Side Roller]
Direct Roller Holder setting directly to reinforced flange for each cover improve greatly the characteristic for external force and is keeping long stable driving . Also, Side Roller setting into niche is keeping stable driving with W drive pantograph.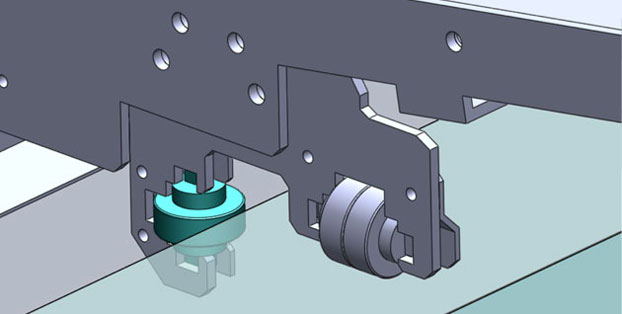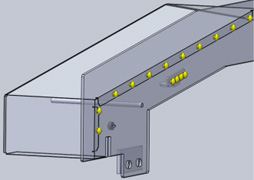 [Weld-Free]
Weld free cover minimized weld use high quality rivet is nothing welding distortion and correction. And it's keeping stable motion characteristic without spoiling part shape precision.

Shock Resistance during movement
Rubber dampers attached for each cover are set on shockless aide and cover-stroke side.
Easy Maintenance
[QBC Wiper]
Screwless QBC wiper is easily replaced iron wiper blade which is supplied for various chips, grinding powder, cutting oil and grinding fluid. Also, this cover can be simplified maintenance of damaged wiper and greatly extended cover's life.

•Low cost, Short delivery
EO series lined up : weightless, standardization and short delivery and low cost keeping Shuttle Guard characteristics . Please offer for replaced maintenance not only for new machine.
Z axis cover (one side slope)
We achieved thorough weight saving for to reduce load by cover-self weight. The best match with new horizontal mobility type is decreasing energy loss on XY axis movement.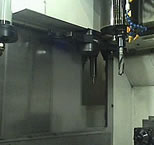 In addition to weight saving and the light movement by the new wiper, we realized the smooth movement and durability that greatly reduced slide resistance by a review of the structure to the details, improvement.

*The details download PDF catalogue.

The trouble such as wiper function is NG by abrasion is soon ,or break down in mobile telescopic cover.
SOLUTION OF SHUTTLE GUARD

Correspond with Shuttle Guard maintenance and another company made shuttle cover.
FAQ for Shuttle Guard